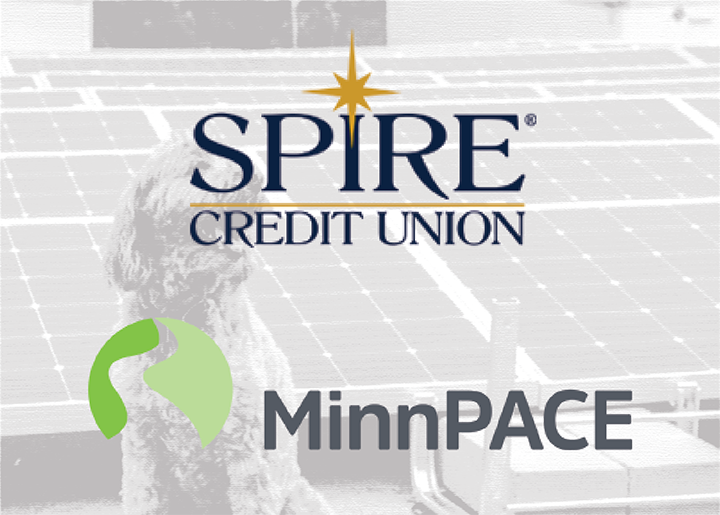 PACE Financing is now available at SPIRE Credit Union. Also known as Property Assessed Clean Energy, PACE is more than just a loan. It's a tool to make energy saving investments affordable for commercial building owners. In fact, many SPIRE clients are already leveraging PACE to save energy and increase profits.
Because of the unique structure – 100 percent financing with payments rolled into a special tax assessment – SPIRE has partnered with MinnPACE. MinnPACE is the primary agent for PACE Financing in Minnesota. As such, they have joint powers agreements with most counties statewide.
How PACE Works
PACE Financing at SPIRE is easy. Regardless of your investment, the process is the same.
Step One
Identify a qualifying project. If the energy savings exceed annual payment obligations, it should qualify.
Step Two
Complete this application and submit to SPIRE Credit Union.
Step Three
Upon approval, SPIRE will deploy loan funds.
Step Four
With funds in-hand, you work directly with your contractor to purchase and install equipment.
Step Five
MinnPACE will partner with your local government agency to establish the property tax assessment. More importantly, your first payment won't be due until May of the following year. As a result, you have ample time to reap the financial benefits of lower energy costs.
Industries and Equipment
Pace Financing at SPIRE is a fit for most any commercial building. For example, we've already funded manufacturers, farming operations, and retail facilities. Likewise, we can finance office buildings, multi-tenant housing units, and nonprofits (including places of worship.)
PACE is a fit for most energy efficiency upgrades. For instance, we can finance HVAC systems and lighting. We can also finance motors and compressed air.
Additionally, PACE is a fit for renewable energy. This includes solar, wind, and geothermal.